Player Development Programs
2015 Player Development - February, April, June, July & August
For developmental, travel and select players (boys and girls, ages 7-14)
During the week-long spring and summer programs, Revolution Academy coaches conduct specialized training sessions to teach players fundamentals of the game, with an emphasis on a repetitive learning process. Individual skill development is the main focus of the program, while also using small-sided games and attendance at a Revolution first-team training session to further impart the lessons.
2015 Goalkeeper Academy - February, April, June, July & August
For goalkeepers (boys and girls, ages 8-14)
Goalkeepers train with the Revolution Academy's professional goalkeeper coaches, focusing on the four major components of goalkeeping: technical, tactical, psychological and physical training. Goalkeeper Academy training sessions are challenging and fast-paced to replicate in-game situations.
Taylor Twellman Goal Scoring Academy - February & July 2015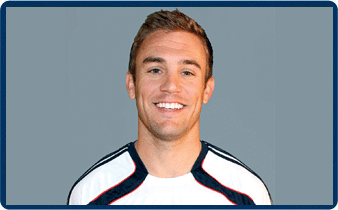 Best suited for attack-minded players of all skill levels
Ages 7-13 | Boys, Girls
This unique program, created in conjunction with Taylor Twellman and the Revolution Academy, covers areas that made Taylor Twellman the leading goal scorer in Revolution history, including: finishing in the final third, attacking heading, volleys and half volleys, movement off the ball, 1v1 moves, exploding into space and creativity and vision around the goal.
2015 High School Academy – August
For high school players (boys and girls, ages 14-18)
The High School Sumer Academy provides a high-level, competitive training atmosphere for high-school aged players. The sessions cover a wide range of topics, such as speed of play, individual and group defending, attacking in the final third and decision making with and without the ball. All players will also be taken through a series of testing stations and be provided with an in-season strength and conditioning program to help better prepare players on and off the field during their high school season.
RDS Summer 2015
The RDS Summer Academy allows boys and girls, ages 10-14, four days of professional training with the Revolution Academy's RDS coaching staff. The top program in the Revolution Academy summer training programs, the RDS Summer Academy is held at six regional locations, all with artificial turf fields. Intended for elite players, this advanced curriculum is specially designed to help players to master core skills required to play the game at the highest level. *This elite summer program is for past RDS participants only.
RDS Fall 2015
The Regional Development School (RDS) offers boys and girls, ages 8-14, an opportunity to receive supplemental training from the Revolution Academy coaching staff. Intended for elite players, this advanced program curriculum is specially designed to help players to master core skills required to play the game at the highest level. Training in the RDS is the most-successful route to earning a spot on the Academy teams.
Residential Academy
Best suited for elite players and previous RDS participants
Ages 10-17 | Boys
Recognized as one of the top 10 youth academy development programs in the country by U.S. Soccer, the Revolution Academy's objective is to develop elite, well rounded soccer players. The Residential Academy allows elite players an opportunity to participate in a unique training experience where they live, train and play like a New England Revolution Academy player. The 2015 Revolution Residential Academy is held at Dean College in Franklin, Mass and is limited to 150 boys (ages 10 to 17).
2015 Schedule:
MLS Juniors & Pre-Academy (Ages 10 – 14): July 12 – 15 - SOLD OUT!
MLS Academy (Ages 15 – 17 ): July 16 – 19 - SOLD OUT!
MLS Pre-Academy (Ages 12 – 14): July 16-19 - SOLD OUT!
MLS Juniors & Pre-Academy (ages 10 – 14): July 19 – 22 - SOLD OUT!
Town Association
This program provides a unique opportunity to have a member of the Revolution Academy technical staff conduct high-level training sessions in your town. The coaching topics can be technical or tactical in nature, and within areas your players could benefit from more support or training.
Order: Call (508) 384-9242 or email revolutionacademy@revolutionsoccer.net
Individual Teams
Teams have the rare opportunity to train like the pros by hosting a team training academy program in their local community. This unique addition to the Revolution Academy is the ideal preseason or in-season training for travel, premier or high school programs.
Order: Call (508) 384-9242 or email revolutionacademy@revolutionsoccer.net
Club Showcase'
The Club Showcase is a unique opportunity for a club's players in all age groups to participate in a multiple-night program that simulates how the Revolution's youth players are evaluated and trained. Through various age-appropriate sessions, players will be exposed to sports performance testing and development, as well as a training session conducted by the Revolution Academy''s coaches.
Sports Performance Development
The Sports Performance Development program is a three-day program that exposes players to the fundamentals of sports performance while improving their athletic abilities. Each session has a particular soccer-specific training mode. Academy coaches focus on teaching exercises to correct movements so players have confidence executing them in game and training situations.
Performance Testing
Performance Testing
The Revolution Academy utilizes T4 Soccer's advanced technology to evaluate players' speed, agility, power and endurance. Following a T4 Testing event, players are able to compare their scores to other players anonymously through an online database. For more information, email
revolutionacademy@revolutionsoccer.net
Sports Performance Academy
Sports Performance: Becoming the Complete Player
The Sports Performance Academy is the most advanced sports performance program offered by the Revolution Academy, with a curriculum specially-designed to help players develop their athletic abilities necessary to be an elite soccer player. The SPA will help improve players' endurance, speed and agility, while also instructing and incorporating exercises to help prevent common soccer-related injuries.